Shopping Cart
Your Cart is Empty
There was an error with PayPal
Click here to try again
Thank you for your business!
You should be receiving an order confirmation from Paypal shortly.
Exit Shopping Cart
Writing is another facet of how I love to express creativity.
I have been writing for many years as a tool to help me tap into my intuition and explore my subconscious mind.
Writing has helped me to trust my inner guidance and strengthens the connection to my Higher Self. This is where creativity, inspiration, and ideas flow.
| | |
| --- | --- |
| Posted on September 6, 2022 at 12:40 AM | |
''Many women are looking on the outside to feel Self Love and Connection but those who succeed are turning inwards which takes them on a journey of Remembrance. They are deconstructing their stories and falling in Love with who they truly are. Loving and honoring every part of their journey. They are Becoming the Embodiment of their Authentic Self, stepping into their Bodies and taking their Power Back. ''
It can get pretty overwhelming to figure out what tools and resources you need when you wish to Deep Dive into the Feminine Experience . So I thought I'd share with you my Top 5 Reasons why the Sacred Feminine Priestess Path Mystery School may be the right path for you.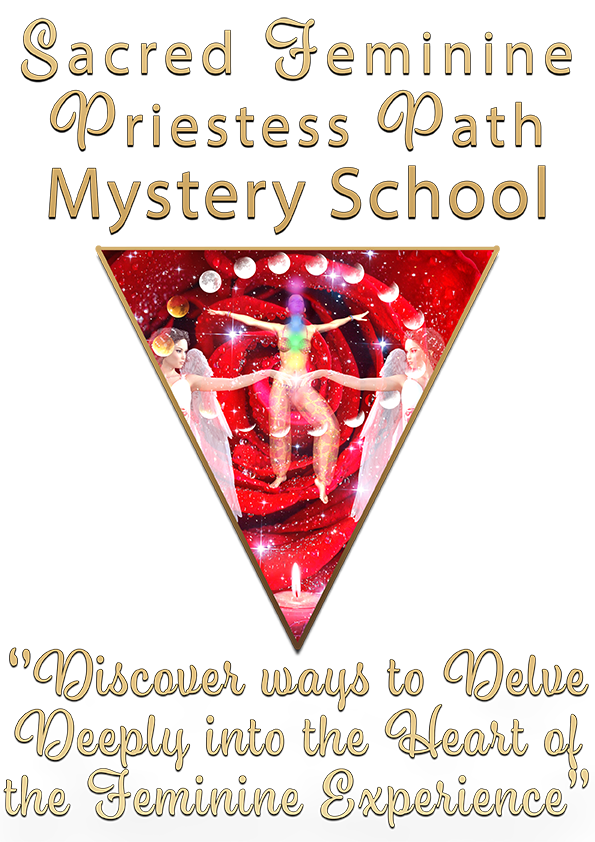 Reason 1 - An Intimate Experience
This is hands-down the best reason for those who enjoy Solitude, Intimacy and Authentic Connection.
You are given time and space to integrate the teachings. Your whole process is honored and you are offered regular Sacred SiStar Sessions so that you can deconstruct in a safe space.
This journey is your own, however, you have a SiStar who has your back and you have access to an intimate circle of women when you feel called.
With access to my 1 year mentorship and guidance you have an opportunity to connect with a person who has the ability to be Present with you.
You will be invited (not obligated) to join Live Circles and have access to the Mystery School Circle Library that has new circle videos added regularly.
Circles are small and intimate. Every woman has a chance to speak, share her wisdom and make authentic connections.
Reason 2 - Tools for Life
If I could only have 3 sets of tools to assist my journey of life, the Priestess Pack would make the list every single time.
Why?
Because it literally has everything needed to encourage Living a Life of Gratitude, Intention, Ceremony and Celebration.
And best of all, these tools guide me to
▽ Remember
▽ Rebirth
▽ Reconnect
▽ Return
▽ Rediscover
▽ Rejuvenate
▽ Release
▽ Relieve
▽ Realign
I am perfect, whole and complete without these tools, however, they have become extremely sacred to me and I love to share them with women to experience on their journey.
The Priestess Pack has been lovingly created to assist your journey of Remembrance. It includes:- Sacred Feminine Priestess Path Book & Card Deck, Sacred Feminine Priestess Path Canvas Pouch, Resin Card Plate, Sacred Feminine Priestess Path Journal, Selenite Crystal Wand, White Sage Stick, Priestess Ritual Bath Blend, Priestess Ritual Tea Blend, Priestess Anointing Oil, Priestess Aura Spray, Rose Tincture & Egyptian Blue Lotus Tincture.
As you can see, that's a serious set of tools!
Aside from these physical tools, the whole Mystery School is seriously jam packed with even more amazing Life tools that help us to truly Thrive.
Reason 3 - A Wealth of Knowledge
If you want a huge download of sacred knowledge and guidance of how to tap into your own deep innate wisdom, then this is a great choice for you.
You'll be guided to ways to Remember so much knowledge within yourself and not only that! You are going to learn to trust your intuitive wisdom and wisdom of Your body.
YOU will change Your Life.
There is no guru, nobody channeling for you or providing your answers. You will REMEMBER that YOU are the Channel. You are the guru. You have all of Your answers Within You.
Are you ready to be this empowered?
We came into this world alone and we will leave this world alone. This journey has always been ours and ours alone.
Nobody can give you your answers but you.
If you feel called to start Trusting yourself deeply then this may just be the path for you.
Reason 4 - Balance
Some people may be under the misconception that the Sacred Feminine Priestess Path is a feminist movement, however, that couldn't be further from the truth.
We honor balance
We honor equality
We honor humanity
It is my belief that each soul carries feminine and masculine energy. Whether you are born male or female you will still carry both of these energies within you.
The soul itself is androgenus by nature, which means that it has no gender.
Both energies exist to complement each other. Just as we need Darkness to understand the LIGHT, we need femininity to understand masculinity. None of these energies are better or worse.
It is simply Energy expressing itself in different ways.
It's really beautiful actually.
Female energy is curving, creative, process-oriented, and flowing. It corresponds to circular, right-side thinking and behaviors.
Masculine energy is direct like an arrow, goal-oriented, structured and focused because male energy corresponds to linear left brain thinking and behaviors.
I believe that our greatest potential lies in balancing female and male energy within ourselves. If both of them work and dance together in a harmonious way, they allow us to better understand energy.
When we dance with these energies within ourselves we begin to activate the Sacred Masculine and Sacred Feminine.
So, in short, NO, this is not a feminist movement.
Reason 5 - NO Dogma
The Sacred Feminine Priestess Path is 100% NOT religious.
In Fact it celebrates our diversity and teaches us new tools so that we are able to hold space for each other's journeys.
We learn new ways of Communicating
We learn new levels of Compassion
We learn new perspectives of Collaboration
You will find women in our circles who identify as wiccans, baptists, methodist, jewish and they will all sit as SiStars. Authentically Human.
Each woman would describe their beliefs differently, however the sacred feminine energy is spiritual in nature and it is NOT a religion. It has no dogma, and there is nothing you must believe in order to experience this energy and its wisdom.
We only ask that each woman takes responsibility for her own thoughts, feelings, judgements and beliefs.
If any of this makes your Heart Sing please head over to
https://opa-school.thinkific.com/courses/sacred-feminine-priestess-path
Categories: Sacred Feminine Priestess Path
/