Shopping Cart
Your Cart is Empty
There was an error with PayPal
Click here to try again
Thank you for your business!
You should be receiving an order confirmation from Paypal shortly.
Exit Shopping Cart
Writing is another facet of how I love to express creativity.
I have been writing for many years as a tool to help me tap into my intuition and explore my subconscious mind.
Writing has helped me to trust my inner guidance and strengthens the connection to my Higher Self. This is where creativity, inspiration, and ideas flow.
| | |
| --- | --- |
| Posted on January 8, 2023 at 12:15 AM | |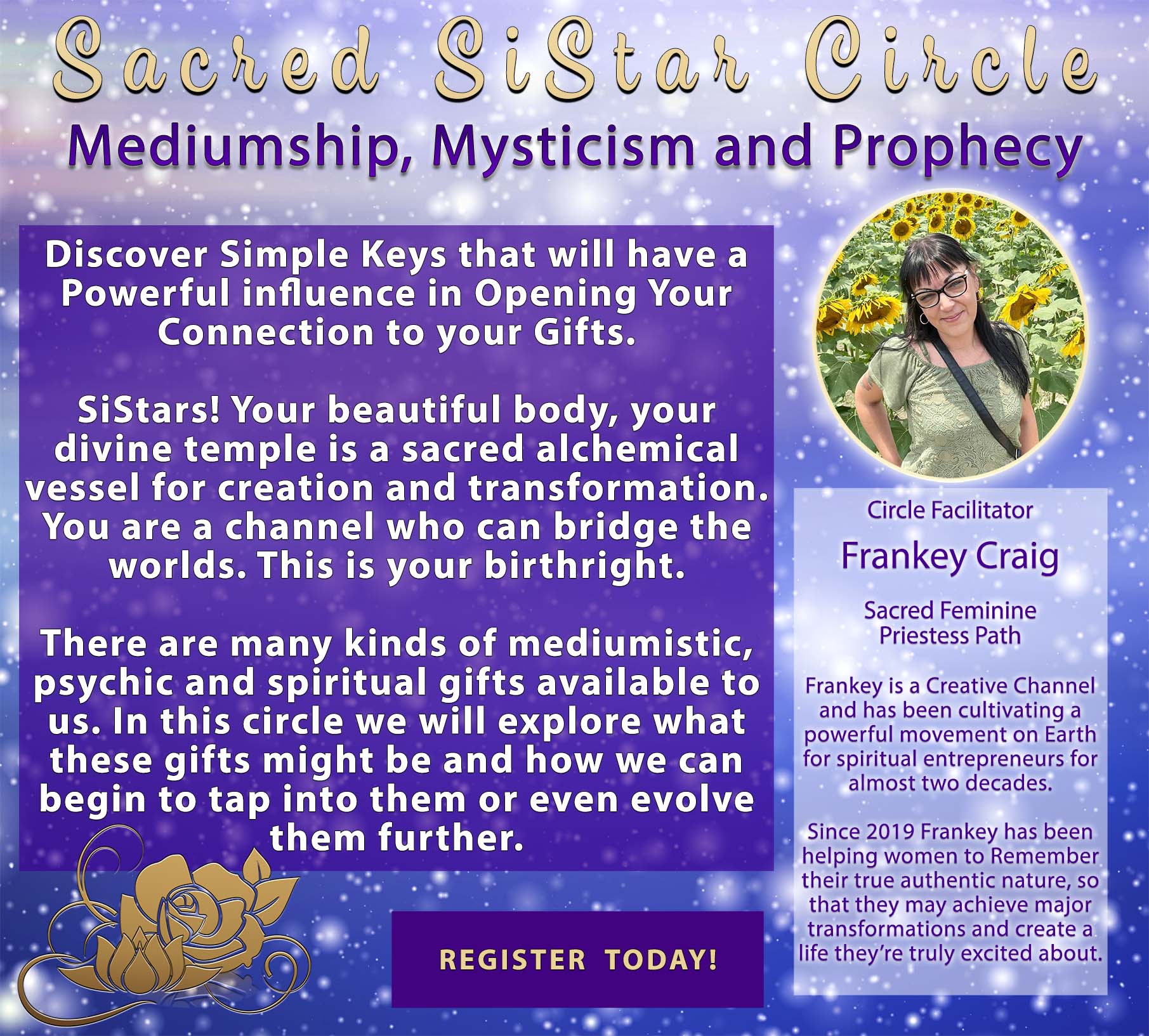 My journey in mediumship development circles began in 2006 when I began sitting with a wonderful Scottish woman in Kent, UK named Maggie Miller. My Nana had introduced me and my parents to Maggie's circles and for many years we were at her house in a circle, sometimes twice a week.
Maggie did a physical circle in the week where we gathered in a dark room and observed physical phenomena. She also sat for trance and we would observe her physical transformations and listen to wisdom from spirit.
Maggie also ran her own mediumship development circles and these circles did not mess around! Anyone who knew Maggie will know that this was her style. She was no nonsense and no fuss. I always felt like she was pushing me off a cliff! LOL Tough love I think it is called! I always knew she had my back and she knew what she was doing. I'm eternally grateful to Maggie. She has no published books and she was not famous and at the same time she showed so many mediums how to step into their power and she did it so freely and unconditionally.
Maggie is now in spirit on a new adventure and I have felt her presence many times. Especially over the last year as I have felt her encouragement to show others how to develop their mediumship and at the same time exercise my own.
Through Maggie and my parents I also met a medium named Glyn Edwards. Glyn is another old school medium from the UK. He does have books on amazon which have been written by Stephen Wollaston. They are collections of Glyn's memories and teachings.
At the time I met Glyn I didn't really know who he was but I had started listening to his audio recordings that were blowing my mind. I sat in circles with Glyn on several occasions and one time I remember, he was crowded with people who wanted to speak with him. I was standing behind him and he reached a hand out behind and held my hand tightly for a moment. Honestly, it was so much more than an acknowledgment, something happened as he squeezed my hand. It felt like information was being passed to me that I couldn't fathom at that time. It's only recently I understand that his teachings were such a foundation for me back then and now, today, when I listen to him I understand on a deeper level. He was truly a profound man. I believe he made his transition to spirit in 2015.
Glyn was known at a place called Arthur Findlay College in Stanstead, UK. I spent a week there in 2008 doing a course with another amazing medium named Mavis Pitilla. The course she ran was called 'Mediumship, Mysticism and Prophecy', sound familiar? Yes! It's the title of this course that I have created with the help of these three Great Guides.
Mavis was a lot like Maggie as a guide for me! She was also no nonsense and no fuss. Again, tough love. She also made me feel like I was being pushed off a cliff. Always making me face my fears head on.
What I learnt about myself and my gifts through her mentorship is priceless and I am eternally grateful to her. She was truly amazing to witness as I saw her continue to evolve before my eyes. She truly moved with the times and was open minded and open hearted.
Thankfully, you can find Mavis's books on amazon and her teachings can be found online. I am so glad that she created an online presence and has left a digital trail and paper trail for us to follow.
Not long after Mavis passed to spirit in 2022 I began to relive my journey of developing my mediumship. I began to feel encouragement from these great guides to share what I have learnt from them with others.
Over the course of 13 circles, we will explore how we may begin to cultivate awareness of our connection to spirit.
Circle 1 - Cultivating Awareness
Circle 2 - Sitting in the Power
Circle 3 - The Power of Presence
Circle 4 - Exploring Subtle Energy
Circle 5 - Exploring Clair Senses
Circle 6 - Developing Mediumship Part 1
Circle 7 - Developing Mediumship Part 2
Circle 8 - Exploring Physical Mediumship
Circle 9 - Exploring Psychometry
Circle 10 - Mediumship Development Circle Part 1
Circle 11 - Mediumship Development Circle Part 2
Circle 12 - Mediumship Development Circle Part 3
Circle 13 - Mediumship Development Circle Part 4
Circles are held on zoom every two weeks on Sunday at 3PM EST and will last for 90 minutes.
1st Circle on Sunday 5th February 2023 at 3PM EST and will last for 90 minutes.
REGISTER AT 
Categories: Monthly Updates
/