Shopping Cart
Your Cart is Empty
There was an error with PayPal
Click here to try again
Thank you for your business!
You should be receiving an order confirmation from Paypal shortly.
Exit Shopping Cart
Writing is another facet of how I love to express creativity.
I have been writing for many years as a tool to help me tap into my intuition and explore my subconscious mind.
Writing has helped me to trust my inner guidance and strengthens the connection to my Higher Self. This is where creativity, inspiration, and ideas flow.
| | |
| --- | --- |
| Posted on January 31, 2023 at 10:55 AM | |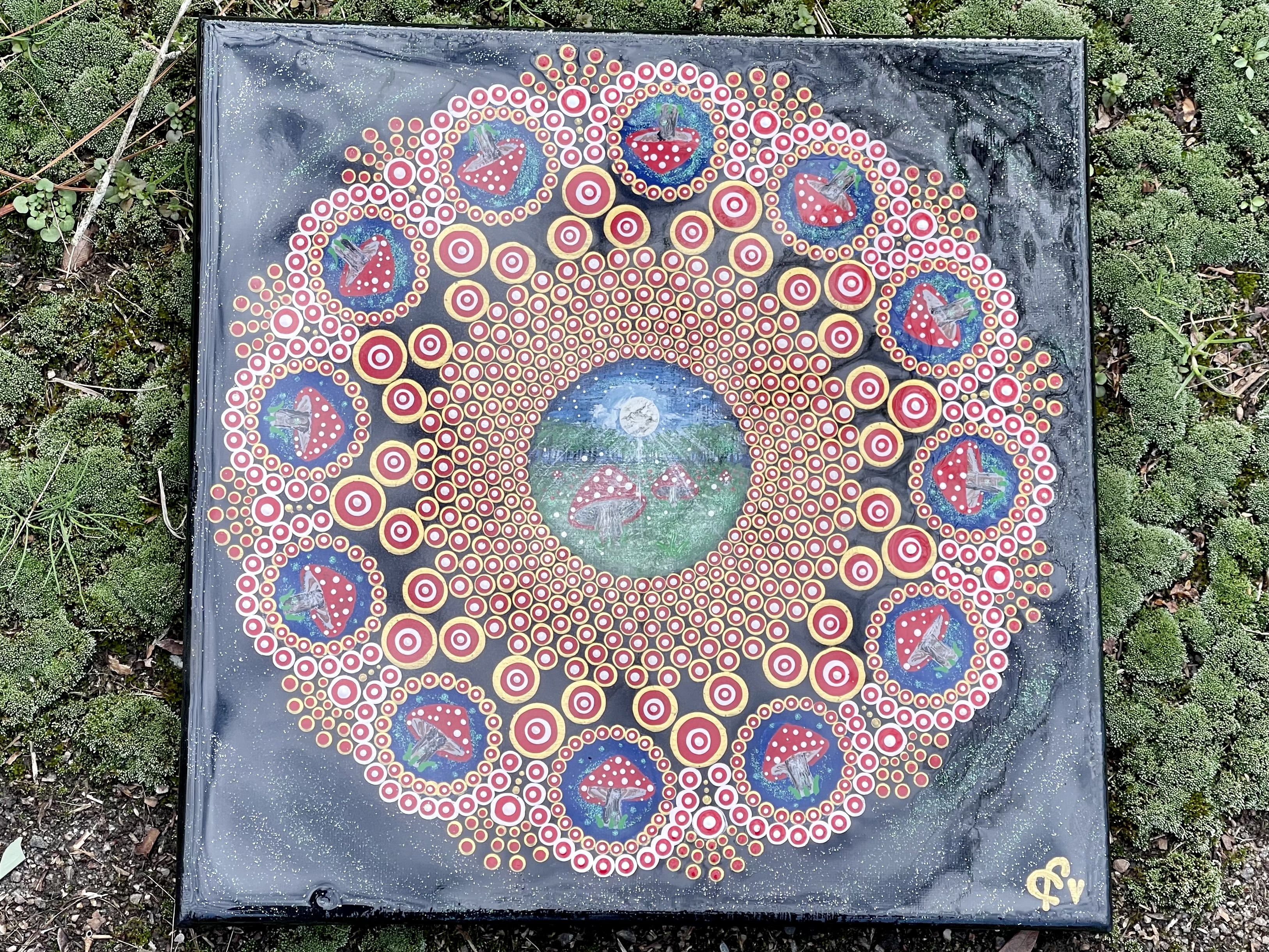 I started to hear the mushrooms calling me to the paint in the studio in mid January and for the rest of the month my workshop was filled with mushroom projects! I sculpted them from clay, painted them, put them in resin and surrounded myself with these little teachers.
'Little Teachers', that's what Graham Hancock calls them. He is an author worth looking up! He talks about the plants being ancient teachers for mankind and little magical mushrooms are among them.
I believe that all plant medicines should be treated with the greatest respect. I believe the right guides should be there to support your journey and I believe that with the right intentions we can have truly transformative experiences that can be extremely beneficial in our lives.
Sometimes I feel sad when I hear about people socially doing mushroom journeys, with no guides, no intentions, no safe atmosphere. It's such an abuse of an amazing medicine. Don't get me wrong, I discovered it that way when I was in my teens, however, I learnt quickly that doing the journeys in a sacred environment is the greatest way to have a healing and transformative experience. The difference is day and night.
There are so many healing benefits to psilocybin. More is being Re-discovered all of the time and I am excited that we are beginning to cultivate a new relationship with our fungi friends.
"Let's be adults about this. These are no longer 'shrooms.' These are no longer party drugs for young people," says Paul Stamets. "Psilocybin mushrooms are non-addictive, life-changing substances."
Shamans often report seeing nature-spirits and mushroom-people. I have seen them and hear them too and I have been taught that mushrooms do the work of the Underworld. They recycle, they transform and they absorb.
They are mother nature's little recyclers! They transform all dead matter by breaking it in order to give birth to something new.
When working with the mushroom guides I asked them ''how can something that can live in such darkness bring so much light?'' and their response was ''we are innocent, we are light, we are free from fear, connected to all that IS.
I reflect that.
''We are innocent'', they have a childlike wonder and don't have a narrative for everything they experience. They are pure in their hearts and clear in their intentions. Ask yourself. Could I invite more of this in my life?
''We are light'', their light, their spirits are greater than any darkness they endure. They ARE the flame in the dark. Ask yourself. Could I be a flame in the dark?
''We are free from fear'', they don't have this illusion that most humans live with. Fear is a concept in our own minds. Most of the time it's not happening, true or real. Ask yourself. Could I let go of fear more?
''Connected to all that IS'', they are connected to what IS real and true, their connection to Life and Nature goes through dimensions, past, present and future. Ask yourself. Could I align myself with what IS?
The mushrooms share that some days carry with them a special energetic quality, such as a full moon. This is also when fairy rings start to pop up!
Mushrooms have also always played an important role in the fairy world. Often we find circles of mushrooms in nature and we know them as fairy rings. Have you ever seen one while walking in the garden or maybe a forest or the woods?
''There are just over 60 species of fungi that grow into fairy rings. The oldest fairy rings are thought to be hundreds of years old. One fairy ring in France spans over 2,000 feet in diameter and is thought to be over 700 years old.
Scientists based in Italy released a study on fairy rings and how they alter the ecosystems they appear in.'' - Linh Anh Cat, Forbes.
They alter and transform, old to new, dead to living! They are just badass!!! Like little exorcists. These guys can endure and break down whatever you throw at them and turn it into gold! Yet another reason to keep them as allies.
This mandala is just packed with their good vibes and will transform any space that it is put into! This I know for sure!
I invite you to connect with our fungi friends and consider the power of rebirth in your own life.
Available to purchase in our Webstore
https://ourpsychicart.com/apps/webstore/products/show/8265669
Categories: Art of Meditation
/